Read more about the background of this series of posts.
This one is seriously formative. It's hard to believe that it's been almost 30 years now since one of the coolest friends I had in the year ahead of me in high school dropped this tape on me. I shopped record stores from this track list for years.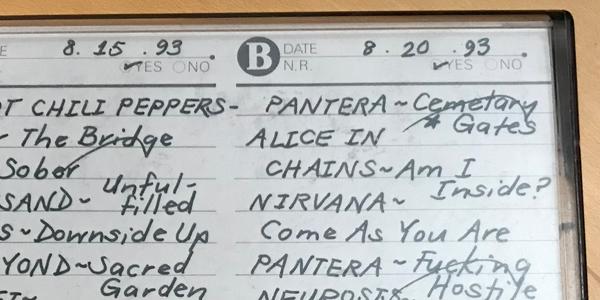 I was disappointed to discover that the two Morbid Angel cuts seem to be unique in their catalog, and the rest of their stuff isn't really for me. Danzig and L7 are always a good time. Helmet and Pantera have been in my rotation off and on (especially when Cemetary Gates also showed up on the excellent soundtrack album for the largely forgettable Demon Knight). Tool and Dead Can Dance both remain in my top 10 to this day, although I suspect that Saltarello was on here more as filler than a featured item.
A
Under the Bridge – Red Hot Chili Peppers (Apple Music)
Sober – Tool (Apple Music)
Unfulfilled – Quicksand (Apple Music)
Downside Up – Kyuss (Apple Music)
Sacred Garden – The Beyond
In the Meantime – Helmet (Apple Music)
Change – Blind Melon (Apple Music)
Am I Demon – Danzig (Apple Music)
Semtex Revolution – Coroner (Apple Music)
Desolate Ways – Morbid Angel (Apple Music)
Doomsday Celebration – Morbid Angel (Apple Music)
Piece By Piece – Slayer (Apple Music)
Saltarello – Dead Can Dance (Apple Music)
B
Cemetary Gates – Pantera (Apple Music)
Am I Inside? – Alice in Chains (Apple Music)
Come As You Are – Nirvana (Apple Music)
Fucking Hostile – Pantera (Apple Music)
To Crawl Under One's Skin – Neurosis (Apple Music)
Suck You Dry – Mudhoney (Apple Music)
Mother of Christ – Alice Donut (Apple Music)
Slaves of Pain – Sepultura (Apple Music)
Wargasm – L7 (Apple Music)
A National Acrobat – Black Sabbath (Apple Music)
Animosity Overkill – Vision