Read more about the background of this series of posts.
I'm not sure how it'll be when our son goes off to college (soon…), but my freshman roommate was a complete stranger that I met when we were unpacking our stuff into the same double room. The great news is that Vince and I got along really well. Our entire UGA group (our floor of the dorm, essentially) got along really well, in fact, and even ended up adopting a handful of folks from elsewhere in the dorm.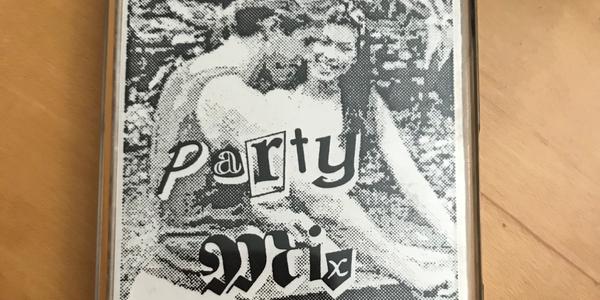 Toward the end of our freshman spring, we decided we were going to have a fairly impromptu barbecue. I don't remember whether there were any reasons more specific than just blowing off steam and celebrating the nice weather. But this tape was the mix that Vince and some of our other friends put together for the occasion, and later copied out for pretty much everyone. I put together the insert in Photoshop and QuarkXPress, applying lots of filters to the image to disguise how low res it was (we didn't have Google image search, and no one was posting print resolution images to the web in spring 1995).
A
B